Thank you for your kind and thorough handing over of puppy Debucher Toute Suite - she has duly been named by Florence and will be known as 'LILI' - hopefully pronounced with a french accent! Though since she has come to live in Essex there is every chance the odd 'oi Lil' might slip out!

She has settled in brilliantly and is really very well adjusted and appears content with all of us.
Naturally, should I have any concerns or queries, you will be my first point of reference.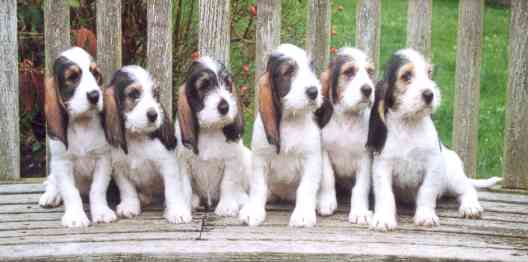 Thank you once more for such a gorgeous pup, I hope she will be very happy with us.
Best Wishes from us all, Tanya .

An excellent, committed breeder of Bassets Griffons Vendeens. We would not have purchased our puppy from anyone else...
Puppy Buyer from Hampshire.

We were most impresssed by the good socialisation of our puppy at the age of nine weeks.
Puppy Buyer from West Midlands.

We were very pleased and impressed by the way the breeder handled things.
Puppy Buyer from Norfolk

Mrs. Phillips was very informative about the breed. Our puppy is very confident and a credit to his breeder.
Puppy buyer from Dorset.

Vivien has been absolutely brilliant. We have visited her regularly for the last four months and have always been made to feel welcome. She has been very honest with all the information on the breed- good and bad - and now we have got our puppy she has said we can pop in any time to see her. We feel confident that no matter what questions we have, Vivien will always be at the other end of the phone for us.
Puppy Buyer from Hertfordshire..

Just thought I would drop you a quick line to let you know how Zsa Zsa, we call her Bunty, is getting along after her first full week in the Deen household. First of all she is everything we wanted in a puppy, she is so full of character. She has eaten well this week and has had very few toilet accidents in doors. She really loves being in the garden and normally does her toilet in the same areas. We have given her lots of toys so, so far my furniture remains intact from chewing. She has been great with our children and immediate family and is so loved. In return she loves being with us and gives us plenty of licks. Clive has taken her to the local vet to be registered and she gave her a full bill of health and her jab!

She does cry at night when we leave her downstairs in her bed which is upsetting. Will she get used to this? Other wise she has adapted so quickly and so well. We have put a collar on her and a lead when we take her to the car so she can get used to it and can't wait to take her for little walks. She can't wait either, as soon as the front door is open she dashes to it to go out! If someone knocks on the door she gets so excited to see them she is just so friendly. We are both so pleased to have her and she is well loved and seems very happy to be with us.
Pauline Carrick from London

Thank you for our lovely puppy Theo (previously Zebedee!) He's been with us 3 weeks today and so far all is going well. A few whimpers when we first go to bed and when we're in the house but not interacting with him, but apart from that (which I'm sure he'll grow out of) he has been a delightful addition to our home. We were particularly impressed by his even temperament when playing with my 2 & half year old nephew, which we were thinking might be down to him having some practice playing with your grandchildren! On your advice we've joined the BGV club so hopefully we'll keep in touch with you and some of Theo's brothers and sisters through that! Many thanks again - he's a beautiful dog.
Caroline Dyer & Chris Tredwell

Debucher Danseuse (Darcie) Absolutely precious!!
She is life changing, a real treasure. Happy, happy hound! Libby and Tango have produced a little star. She loves her crate, steers clear of the 3 cats and has great respect for our aged cocker spaniel, Sky and thoroughly loves life. She has made waking up in the morning worth while again. She goes through the night without a murmur and is nearly house trained, in one week. She is such a part of the family already and we are thinking about another one very soon. Thank you so much Vivien for all your help and advice and the smooth passing over of Darcie, We love her very much!
Rachel Oldershaw and family, Northampton (june 2008)

Just wanted to let you know how grateful we are to have Kipuu. She is a really wonderful addition our family. She loves the garden and going out for walks. We are constantly stopped and asked about her breed. Everyone says how gorgeous and friendly she is. At puppy school she was initially timid but now enjoys playing with the other puppies and is slowly but surely responding to our commands. She is growing well and has settled in beautifully. Best wishes,
Rozanne & Mike

I want to say thankyou so much for our fantastic little GBV we picked up from you a few months ago (born on 4th Feb). He has settled in really well and is beautifully behaved and very affectionate and gentle. Everyone has fallen in love with him and we're very happy that he's part of our family. Thankyou again for taking the time and effort to breed such wonderful dogs. Kind Regards,
Ruth Davis (The woman from Wimbledon with the Labradoodle!)

Dear Vivien, Happy New Year to you. Just a quick note to say thank you so much for breeding "Badger". We love him so much and "Tarka" is getting more and more used to him. They often lie near each other and she does genuinely car if he has hurt himself, so it is lovely and we are thrilled to bits.
Thank you again....Terrie

She has grown in to a lovely dog, so good natured and friendly (I don't think she has a nasty bone in her body). She can be let off the lead and has been off the lead from 12 weeks, however, she does have her PSB mode (psycho squirrel bitch) when there is no stopping her and she is off, closely followed by my husband in chase!. She gets on great with the Grand (Sid) that lives down the road and runs most dogs ragged playing with them, she has hardly chewed anything through growing up, although a bit fussy with her food (our fault!) and loves to play – she hates water with a vengeance and no amount of coaxing will get her in there!. She is a joy basically!! Thanks for all your help and guidance I am not too sure what we would have done without you and seriously thinking of a friend for her!
Gill Fletcher

Dolly is really totally at home now. Hector is very gradually coming around as I think he recognises a potential partner in crime! She is eating well, sleeping well, we have had no accidents at all in the house (even at night) and she is in the process of digging to Australia in the flower beds. I will send some photographs for you to see as soon as the link to my computer is repaired. We are absolutely delighted with her and thank you for allowing us to have such an exceptional little pup.
Ted and Alex