In Memoriam
---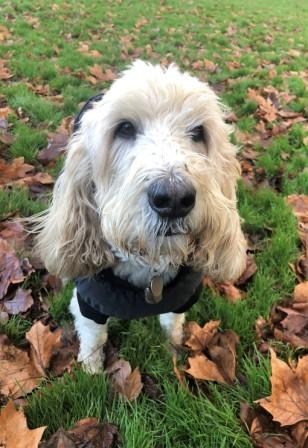 Fabergé Garside Debucher 'Hudson'
19/12/2011 – 09/05/2022
With a heavy heart, our beloved dog Debucher Gairside Faberge 'Hudson' crossed the rainbow bridge on Monday Morning.
He passed away in his bed, in the garden, under bright blue skies and with a chorus of bird song singing.
With Cola & I by his side, making sure he was peaceful & surrounded with love.
His preferred spot most given days was sitting in the centre of the garden just, looking, listening and with his nose slightly cocked towards the heavens to smell whatever was on the breeze. He had a profound effect on our lives, joining our small family unit as one.
Our love for nature and humanity changed because of this noble creature and we will be eternally grateful to him.
Over the last few days, we have been struck by the outpouring of love, by so many for Hudson.
They all loved his bark, his personality, but most of all his independent character.
The Grand Basset Griffon Vendéen is unlike so many other dogs and we are so proud to have been owners of one.
Thank you for allowing us to have one of your dogs so many years ago and thank you for your wise and compassionate words when
I called recently, they were hugely helpful for the journey we are now on.
We loved him his whole life, we'll miss him for the rest of ours.
---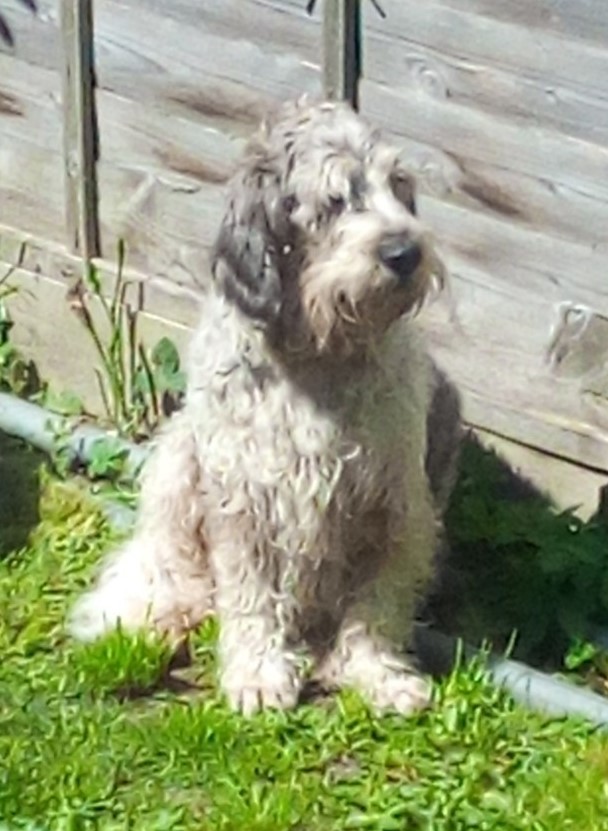 DEBUCHER XZENA
27/022015 - 26/07/2021
(Debucher Gauguin - Debucher Waspish)
Xzena who had retired to live with Donna Rendell sadly passed away.
I rehomed Xzena in August 2017 from Vivien, I couldn't believe my luck to get such a beautiful and loving girl. She settled in well and her favourite place was my bed or the sofa, sorry Viv she did become a pampered pooch but not too spoilt.
She loved to run in the woods chasing squirrels and barking up the trees as they climbed. Xzena also enjoyed a squeaky toy or ball too, she would lay and squeak it continually sometimes and the squeak would soon break.
Xzena had a thyroid problem and visited the vets regularly for check ups, the nurses would often laugh and comment when she had her blood tests, if she could put her paw on the vein to help she would, she was so good she would stand and hold her head up ready.
When I walked the dogs people would often stop to admire her and ask what breed she was and isn't she lovely, trying to promote the breed one walk at a time!
Xzena was rarely grumpy had a tail wag for everyone and loved a cuddle.
She is very much loved and is missed greatly.
---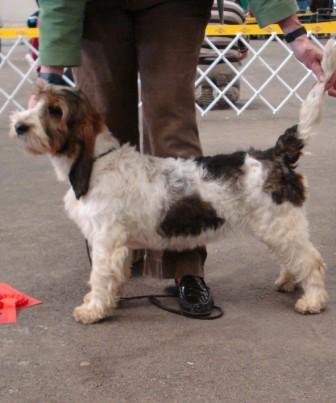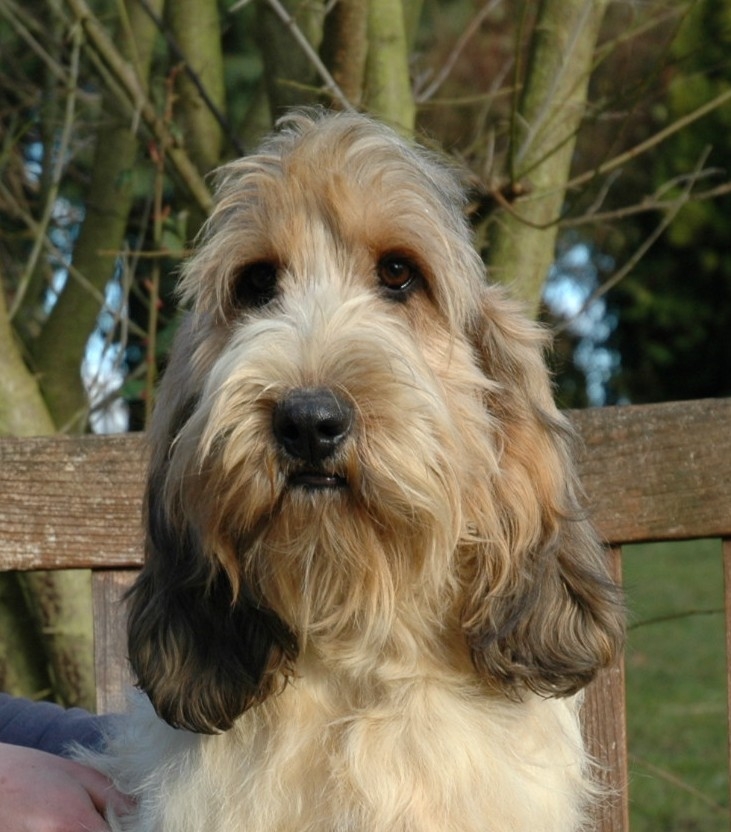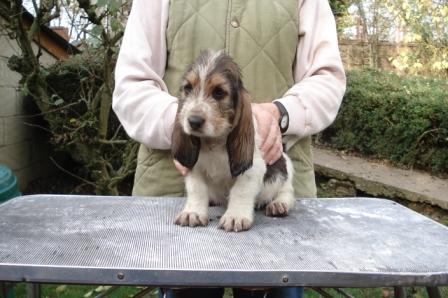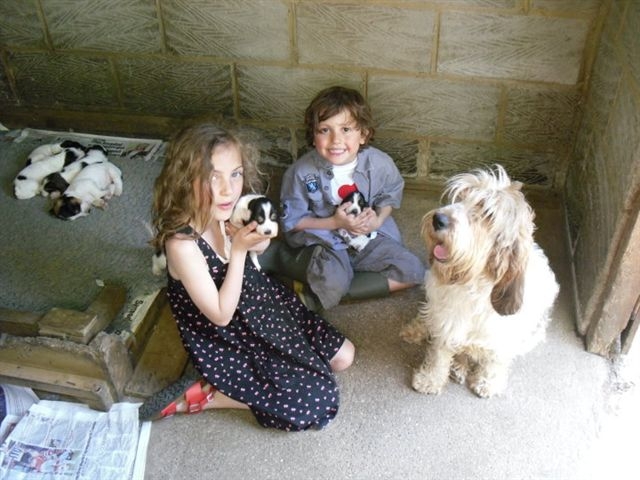 DEBUCHER GITANE
15/9/2007 - 22/7/2021
(Nireau du Barbillot des Maladieres - Debucher Sauve Qui Peut)
The sad, but not unexpected news this week of Gitane who had lived with a lovely family for the past 7 years, PTS to avoid further suffering. A lovely funny personality and great to show as well. so sadly missed.
Gitane was actually sold as a pup and I remember, because I had to keep her to 12 weeks, being really annoyed that I had actually agreed to sell her. She very luckily came back very soon as the owner had a change of work schedule and could no longer work from home.! Sometimes these lucky moments come . I showed Gitane as a youngster where she won BP at the BGV Club show under judge Anne Macdonald and subsequently un 2008 the bitch CC and BP under Denise Courtney at Welsh Kennel Club. She was lovely to show, but her forte was in mothering some super pups.
Gitane had 4 litters. Two were to Debucher Hors D'Oeuvre and the second of these produced Debucher Bien Connue who although successful in the ring was also the dam of our latest Champion Debucher Bizet. Her last litter to Can Can V Tum-Tums Vriendjes gave u Debucher Quelquefois who went to Croatia and then Austria and won the CACIB at the World show in 2015.
When Gitane retired she went to live with Jack Robson and his dad and her half sister Debucher Crème Brulee who sadly died in November 2020. They had 2 GBGVs from me previously so obviously the most wonderful home. Jack adored her and wrote the following when he told me they had made the decision, Hard though, it was.
"We are so grateful for the years we have been able to enjoy her company and incredible cheekiness. We fondly remember moments of walking back into a room to find her counter top surfing and eating our food, To moments where she found going back onto the lead a game and would run circles around us. We also had a few occasions where the ducks in a pond became far too interesting and one of us had to go in after in some shape or form.
We will hold these memories close and cherish each one."
---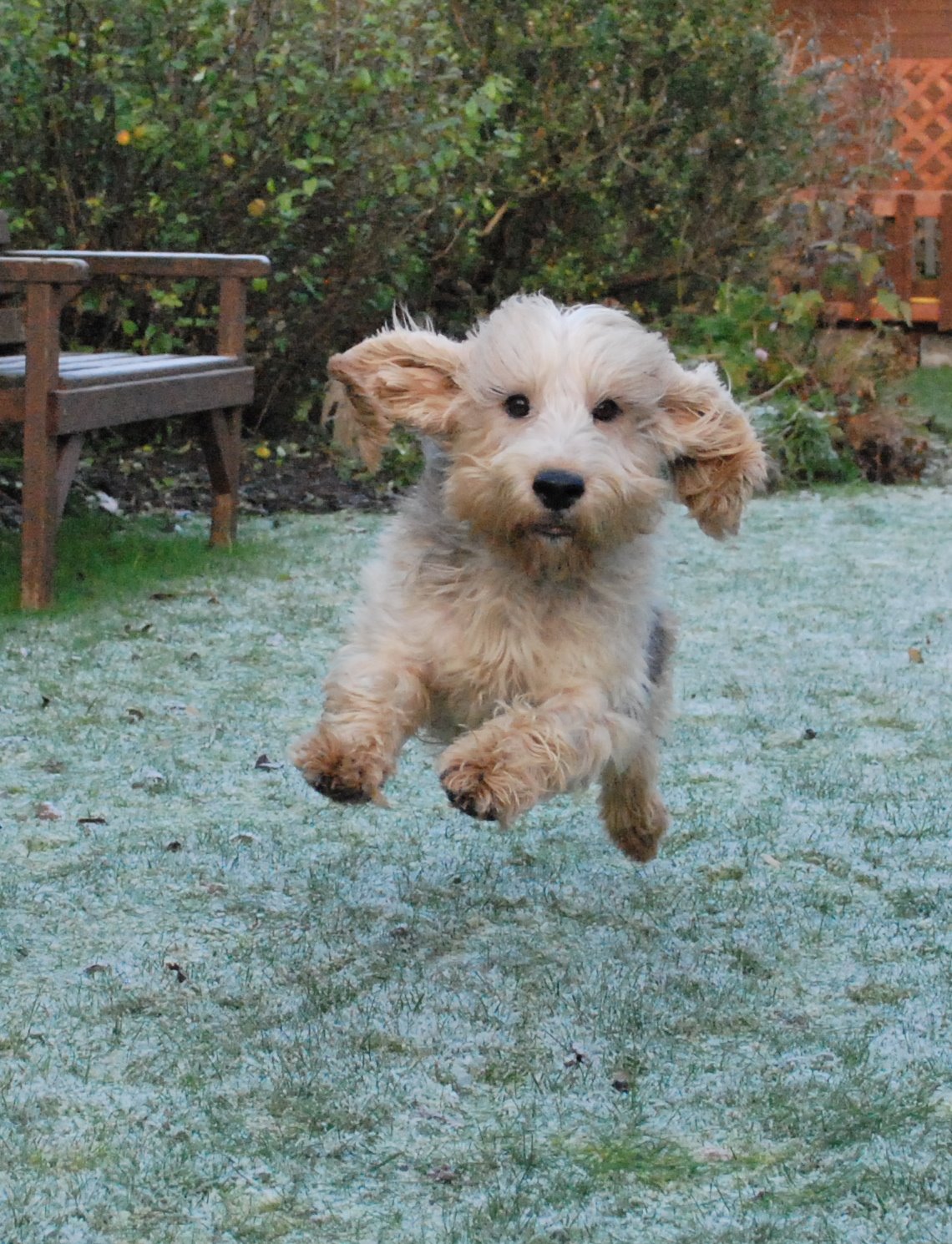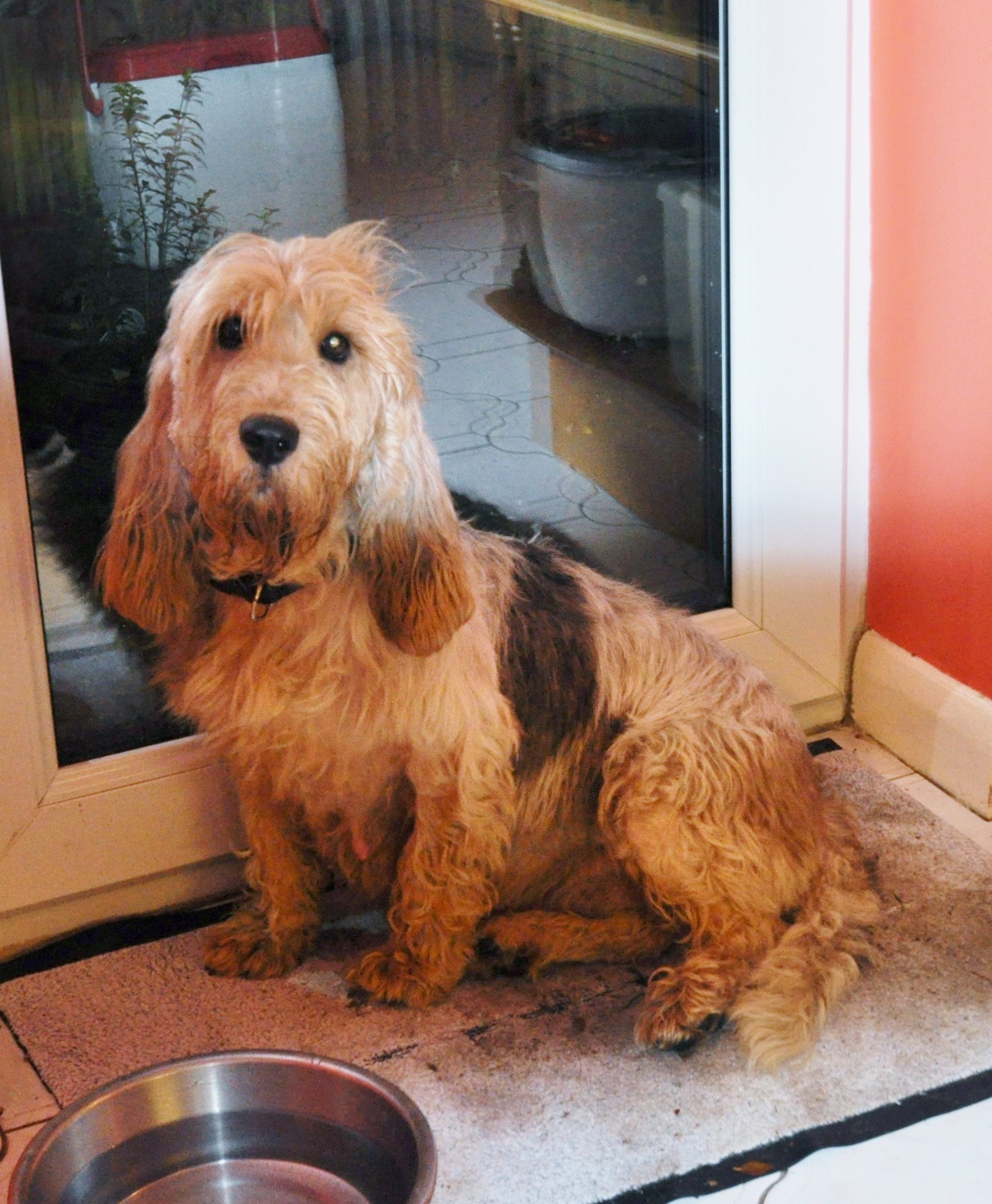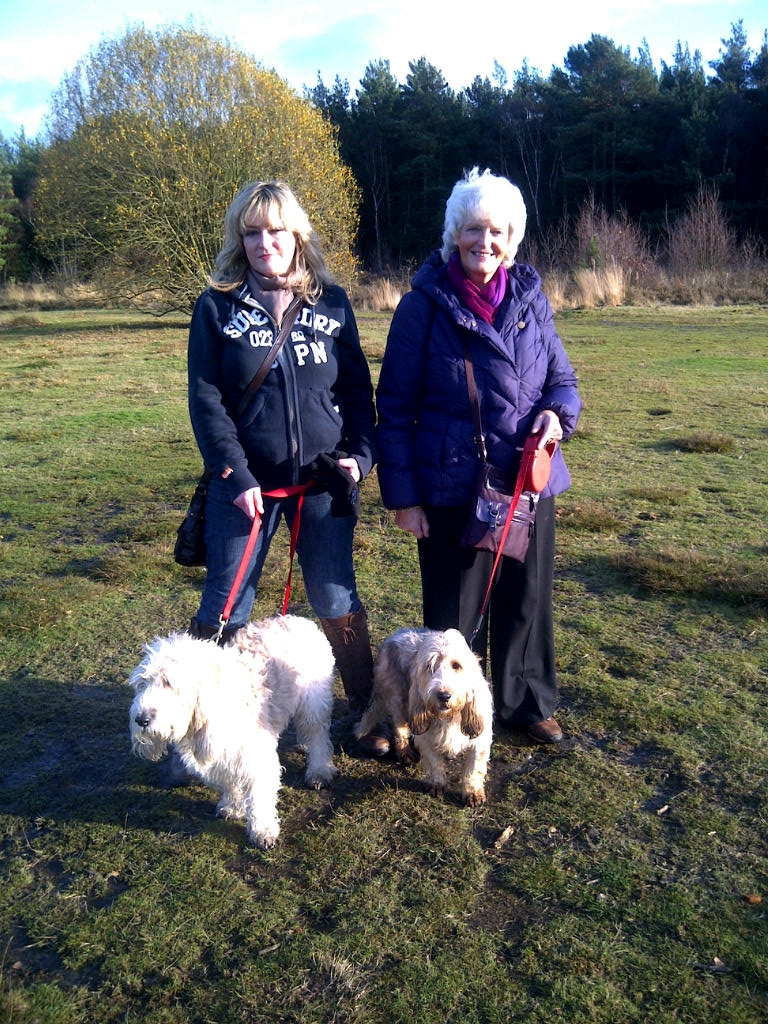 GREFIERDUROI QUELLE FOLIE A DEDUCHER
16/11/2007 - 05/03/2021
"Folie" sadly died having had a happy retirement in Ayr.
A few photographs taken of Folie which actually show her looking at the camera. She was born 16/11/2007 and was put to sleep on 5/03/21 aged 13 years 5 months. I adopted her on 22/11/2012 on her retirement. The first picture shows her running and jumping with joy in the garden of her new home in Ayr. She always loved the frosty grass and rolled on it at every opportunity.
Folie was with me for 9 happy years. True to her GBGV character she was an independent lady who exactly understood what she was asked to do, but considered carefully whether or not she would carry it out. She understood that it was clever not to be clever, for then you did not need to disturb yourself and chase after any object thrown for her to retrieve. She did learn to obey the command "Leave it," when she picked up anything undesirable on her walks. For this good behaviour she was given a treat. It wasn't long before I realised she was working the system and picking up any object in her path which previously she would have ignored.
She lived life in the easy lane and did not respond to any dog barking at her as we walked along, as she regarded barking as pointless and a waste of energy.
Folie was totally undemanding and as long as she knew where I was she was happy and a perfect example of contentment. I never tired of telling people what breed of dog she was as she was being petted by another admiring stranger. She was beautiful in every way, character and appearance and we miss her more than words can say.
My sadness at loosing her is only eased by the memory of our years together.
Thank you for giving her to me.
"Folie" (Nireau du Barbillot des Maladiers - Bon Sens du Grefier du Roi)
She was a lovely little bitch who gave us 4 litters before her well deserved retirement. In 2010 mated to Ch Debucher Rigole she produced a litter in which were Ch Debucher Xfactor, Australian Ch Debucher Xport Quality and Debucher Xtravagant who won several Res.CCs behind his own father. In 2011 she was mated to Can Can V Tum-Tums Vriendjes Debucher and from this Debucher Charisma her daughter was later mated to Ch Debucher Matisse and they produced French Champion Debucher Yezebel who was born in 2015.
---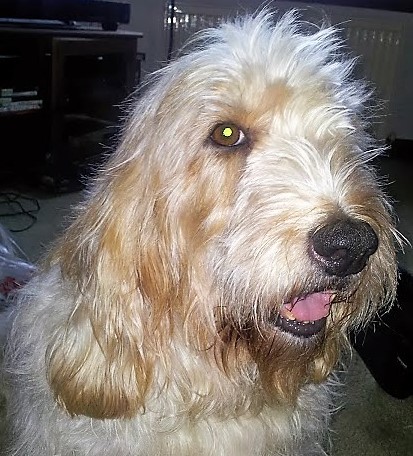 DEBUCHER CREME BRULEE
11/11/2006 - 30/11/2020
I have to announce the sad news that Jack Robson and his family took the decision yesterday to let Brulee go as she had become very frail and had cancer. She was their third GBGV in retirement from me and they also have given a home to Debucher Gitane who is fortunately still with us.
A lovey sweet bitch who gave me 4 wonderful litters. These included Debucher Delicieuse who went to Betty and George Barth's Gebeba Kennel in the USA with her sister Double Entendre and their brother Ch Debucher D'Artagnan at Janimist who sadly died last week.
She also was the dam of Debucher Vuvuzela who was a very successful bitch in Norway, awarded the first Tracking certificate along with her Hunting awards, and her sister Debucher Vendee who went to Sweden. Her daughter Debucher Novembre also gave us many good puppies.
All in all a super bitch who is sadly missed by her "family"
---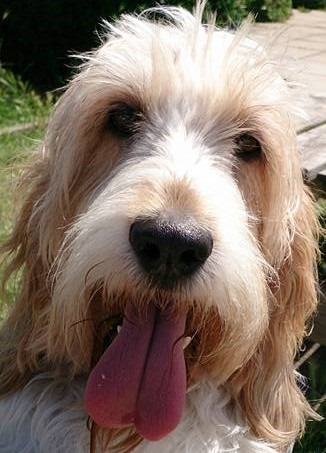 DEBUCHER FAÇADE
16/05/2007 – 10/11/2020
Debucher Facade was our first GBGV, coming to live with us aged 6½. to retire. She became known as The Princess, because to us, she was! We have had many different breeds over the years, but she was completely different! Having done advanced obedience, flyball etc with our previous dog, an Italian Spinone, I foolishly thought...they are intelligent, she will love it. How wrong I was! She had absolutely no intention of co-operating..we lasted two weeks..All she wanted to do was try to catch the mice in the barn! She was the most stubborn dog..if she did not want to do anything, then she wouldn't...very familiar to other owners. She was a trainer, she had no intention of being a student...her role in life was to train her humans in the ways of a GBGV!
She had the sweetest nature, and loved people. She thought all visitors had come to see her. Everyone was greeted with her rolling on her back for a tummy rub….but...woe betide anyone who sat in 'her' chair… She would start by sitting in front of them, staring at them...she would progress to standing on her back legs at the side and batting them with her paw. If none of that worked, and it often did work (very few could resist those eyes!) she would then start phase three...clambering up on their lap, sitting on them and giving them a hard stare!
She was an amazing girl. We took her everywhere for days out and on holidays. In cottages, in hotels, in friends houses, the length and breadth of the country. She went on steam trains, on boats, even a coal fired paddle steamer. Nothing bothered her. She was a bit aloof with other dogs..unless they were a GBGV..then they were obviously 'one of us' and worthy of notice!
We had the most amazing 7 years with the most amazing hound.
---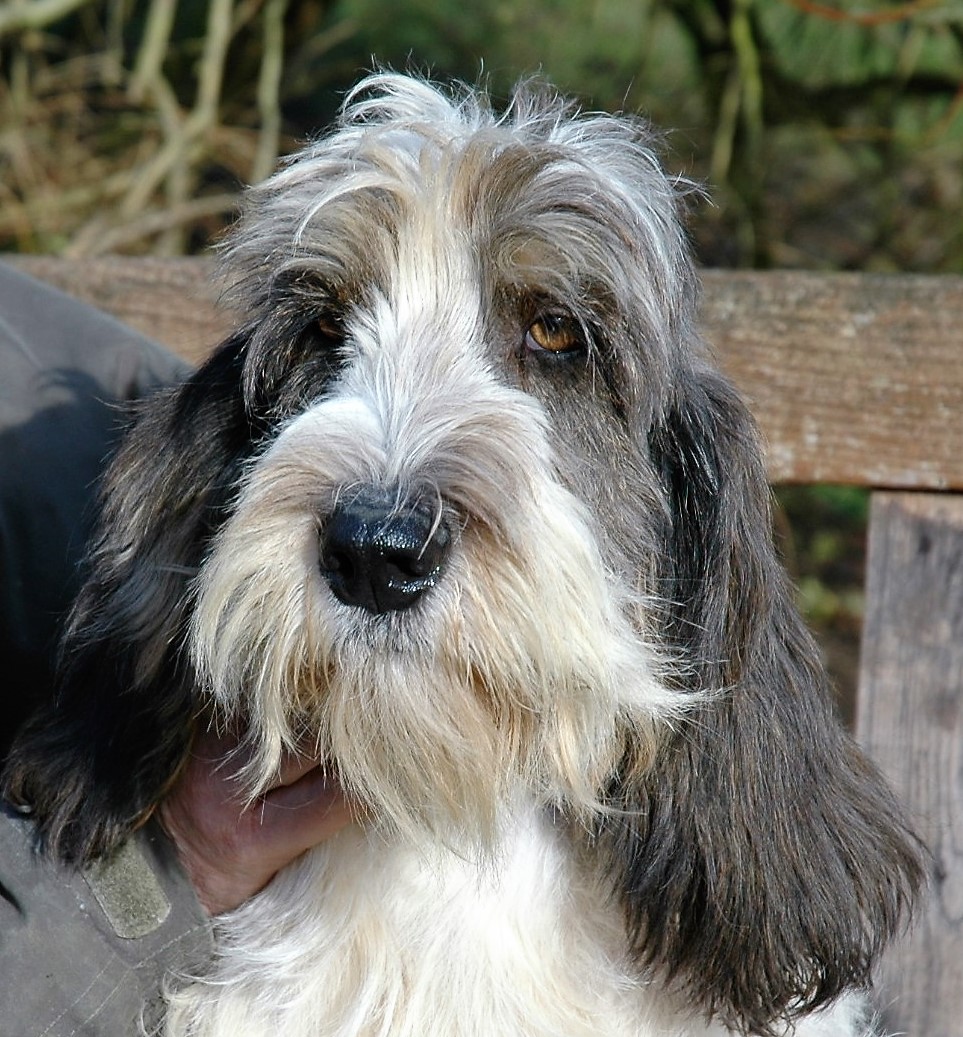 DEBUCHER ZSA ZSA
26/3/2006 – 25/3/2017
Zsa Zsa was a lovely bitch. A daughter of Nireau du Barbillot des Maladieres and Debucher Idyllique. She went to Holland to have her first litter to Barbarpapa v Tum-Tums Vriendjes and her son Can Can and daughter Frou Frou came over to the UK and produced some very relevant hounds here at Clipperdown. To name but a few Debucher Sartre and his sister Sensass and Ch Debucher Matisse.
She had two more litters, one by Ch/Aus Ch Debucher Picobello and her third by Ch/Aus Ch Wilmit Braconnier de Debucher from which a bitch Debucher Heroine went to the Janimist kennels and was successful in the ring prior to producing a lovely litter.
So Zsa Zsa certainly made her mark here.
She retired to a lovely home in the countryside but sadly had to be put to sleep due to bowel cancer just before her 11th birthday and is sadly missed by her lovely forever family.
---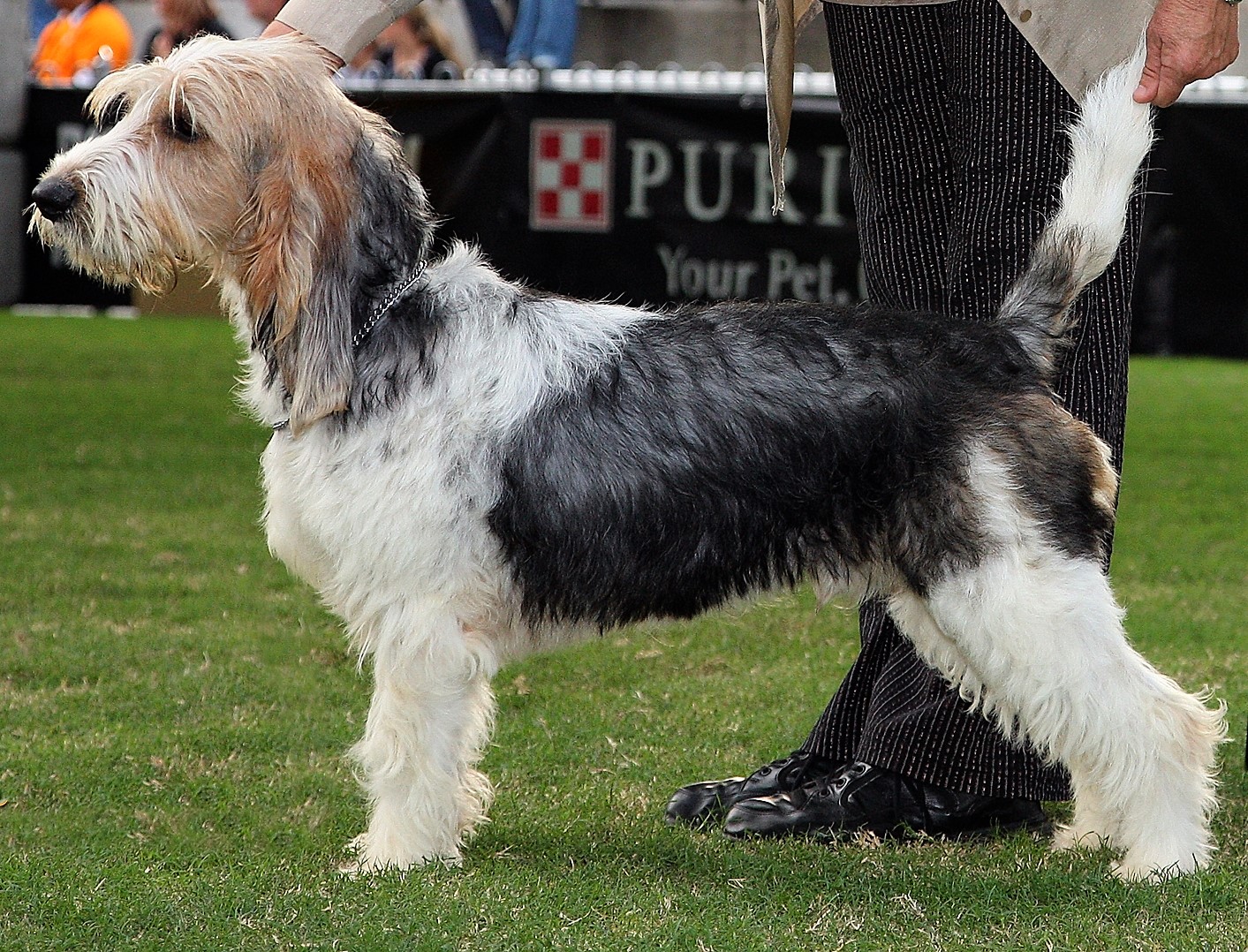 Debucher Xport Quality
08/08/2010 - 26/06/2020

The sad news of the death of Aust Ch. Debucher Xport Quality who went out as a puppy to Australia to Deb and Darrell Matthews' Rickaby Kennels.

Port was the clown of the family always happy and had to be the centre of attention.
These traits live on in his offspring.
Major wins
20/4/11 Sydney Royal Best of Breed & Puppy of Breed
10/9/11 Dogs NSW Northern Region Runner Up Best In Show & Junior in Show

Multi Class in Show, Best in Group, Runner Up in Group, Classes in Group and BOB winner

Port sired multi BIS.
Class in Show, Group, Runner Up in Group, Class in Group and Best of Breed winners at both all breeds and Specialty Shows

Some of his progeny;
Sire - Australias first Supreme Champion - Sup Ch Rickaby Cruise - owned D Tidey
Sire - Ch Rickaby Chase - Challenge Dog Sydney Royal 2016 D&D Matthews
Sire - Rickaby French Affair - BOB & Puppy of Breed Sydney Royal 2015 - D&D Matthews
Sire - Grand Ch Rickaby From Me To U - BOB Sydney Royal - owned D Tidey
Sire - CH Rickaby French Lace - D Tidey
---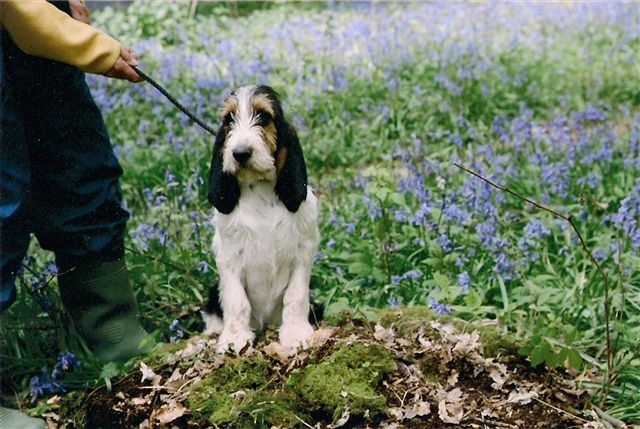 Debucher Novembre
20/11/2008 - 15/10/2019

Sad phone call from Ellie Harris to tell us that Debucher Novembre "Nova" had passed away in her sleep. She would have been 11 in November. Nova from the first litter of Debucher Hors D'Oeuvre "Havoc" and Debucher Creme Brulee was shown as a youngster and also at Crufts in Veteran. She had 3 litters all to Can Can V Tum Tums Vriendjes the only dog she would accept! such a princess! Her first litter produced Ch Debucher Why Not owned by Tim Jones and Stephen Jepson and we kept Waspish who produced amongst others. Multi Ch Debucher Orlando now living with Heidi Örling in Finland and my own Debucher Fifi. Their sister Waltzer joined Deb and Darrell Matthews in Australia. Two of her subsequent daughters went to the USA Debucher Esperance and Entente Cordiale. She had a brilliant life with the Harris family and will be sadly missed by them all,
she was such a character.

---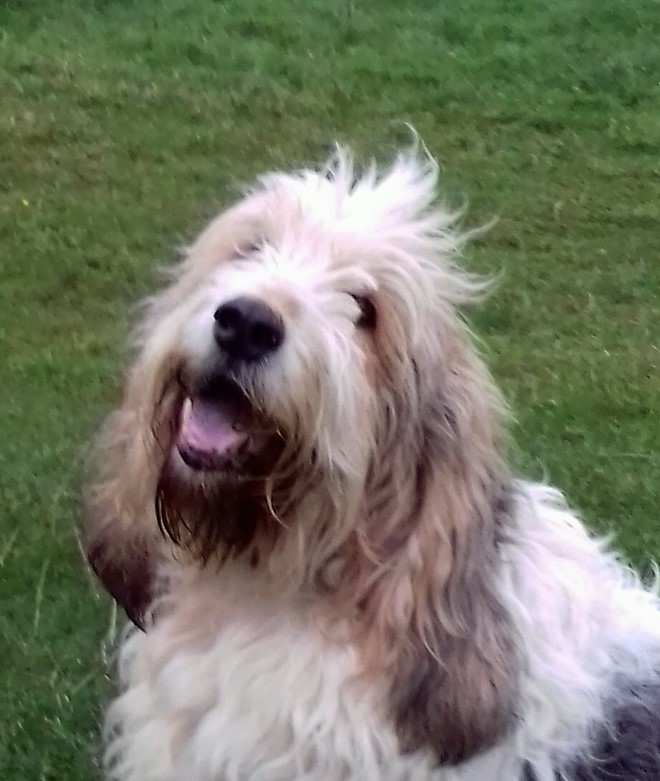 Seamus (Wilmit Barnaby de Debucher)
13/12/2005 - 27/07/2019

We lost our wonderful boy Seamus on Saturday after a short illness. He was 13 and a half years old. He has kept us on our toes, made us laugh and filled our lives with so much love and happiness.
It was clear that we had a real character on our hands very early on. We were first time dog owners so we really had gone and found the deepest swimming pool we could find and had jumped headlong in! We were expelled from puppy class after two weeks! We then embarked on a six week course of one to one training. Rather stupidly perhaps we engaged the services of a gun dog trainer. Our first session was spent mainly hiding behind a tree in a forest. Seamus had been let off the lead and was supposed to become anxious and come and find us. I think you know how the story ends!!! About ten minutes passed and Michael and I began shooting worried glances at each other. Seamus never appeared so we disbanded and went in search of him! One of the trainers other tactics (which I'm sure most would frown upon) was to shout at Seamus.
This scared the living daylights out of Michael and I. Seamus was completely unmoved!

We've had so many adventures together in the last 13 years.
Inevitably in that length of time there have been some ups and downs but Seamus has always been there beside us.
Usually with a huge smile on his face.

He has left an awfully big hole in our hearts.
Alex Mortlock.
---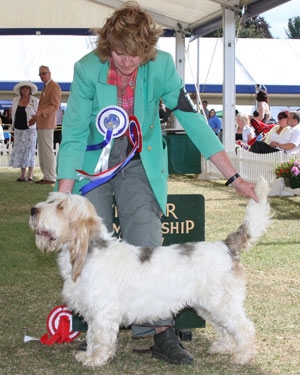 CH/AUS CH WILMIT BRACONNIER DE DEBUCHER
13/12/2005 - 10/1/2019
On 10th
January
, Ch/Aus Ch Wilmit Braconnier de Debucher was put to sleep he was just 13. He had been in Australia for
about
6 years where he sired two litters which produced several Australian Champions, he himself became an All Breeds Best in Show Winner and Multi Best in Group Winner in Australia, and was much loved by Darrell and Deb Matthews where he had become a house dog. Before he left the UK he gained 12 CCs and several Group wins. He also won the dog CC at Crufts 2008 under judge Colin Gillanders. He sired 6 litters from which Barbara Milton (his breeder) had Ch/Ir Ch Wilmit Domino. He had a son Multi Champion Debucher Tambour who is in Portugal and his last litter before he left these shores produced Debucher Heroine at Janimist who subsequently became the grand mother of Yvonne Moult's Zamdilsa Trick or Treat top GBGV puppy in 2018. A lovely male who came from the final litter sired by Bien Fait du Greffier du Roi whose first litter produced Ch Debucher le Barbu 8 years previously. His dam Debucher Tete-A-Tete was herself top bitch in 2003, but sadly this was prior to the breed having CC status.



---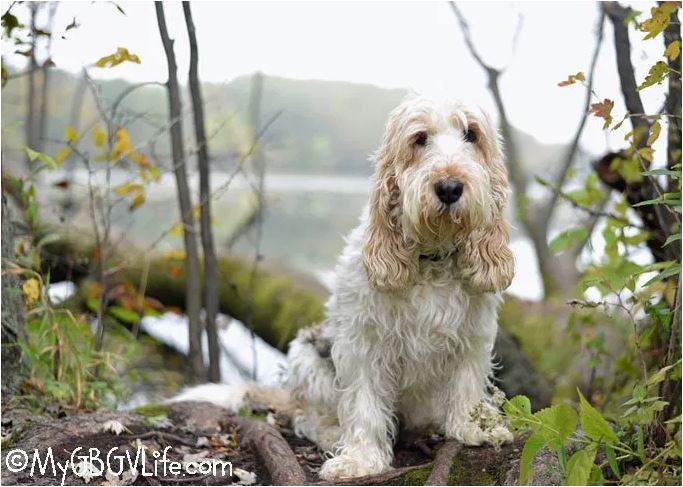 DEBUCHER BAGUETTE.
11/09/2006 - 30/10/2018
We had the terribly sad news of the death in the USA of Joy Johnson Schneider's first GBGV Debucher Baguette ( Debucher Yorrick - Debucher Prima Donna) "Emma" at just 12 years old.
Emma paved the way in the USA for Nose Work Trials and was the first GBGV to win the title NWLevel 1 in 2014.
Joy continued with this work with her and subsequently with her two younger hounds born in the USA She achieved her Level 2 in September this year a marvellous achievement for an older dog, and again the first GBGV to win this title.
Along the way Emma also started a blog which has been followed by many lovers of the breed and even published a book "Tales of a French Scent Hound"
in 2013 and available from Amazon, a really good read.
Joy is understandably devasted by her loss particularly as it happened literally within a few hours, but her blog will be continued by the youngsters Madison and Baillie.
I am so grateful to Joy for her work in this field as it shows that these dogs can achieve results at these Nose Work trials as well as success in the Show Ring and Hunting field.

---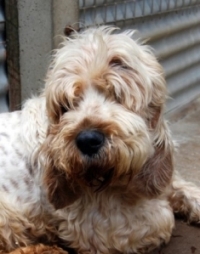 DEBUCHER JAROMIR
27/11/1996 - 16/12/2011

On a very sad note I have to report that I decided to put Debucher Jaromir to sleep on 16th December just three weeks after his 15th Birthday. I did not feel it fair for him to lose all dignity as he was such a noble hound, and he was beginning to become very confused. It came so soon after the death of his daughter Barbara Milton's Debucher Utopie the week before.
A great stud dog, whose progeny live on. In 8 litters he produced Ch Ravensbeech Bayeux and Ch Gairside I'm Still Waiting, as well as Debucher Tete- a-Tete the dam of Ch Wilmit Braconnier de Debucher, amongst many other fabulous puppies.
Jaro was shown as a youngster, but because he had a very heavy coat, which was difficult to maintain in "show" condition, his kennel mate for 14 years Ch Debucher Le Barbu went out to fly the flag, whilst he stayed home and watched over the ladies! A truly lovely dog, the image of his sire Dutch Champion Flambeur du Roc de Deymier, he was a house dog after the death of Barbu in April this year, and was loved by us all.
A great dog, missed terribly by me, it is hard, as he was the last of the 4 old boys Dehra Esperance,
Nireau du Barbillot des Maladieres and Barbu who all reached 14. and all of whom I lost in the last 16 months.
He was loved by us all
---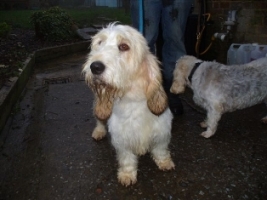 DEBUCHER WISPA
3/3/2000 - 28/11/11
There is sad news of the death of "Wispa" from Hilary Cole to whom she had been a constant companion since 2007,
Wispa's mother was Debucher Lyrique the litter sister to le Barbu and her father Jaclin Golfinger a Flambeur du Roc de Deymier son.
She gave me three litters, the first of which produced Ch/Aust. Ch Debucher Picobello and the second of which amongst others Debucher Creme Brulee who herself has produced some wonderful progeny, many of whom are in Scandinavia hunting as well as showing and recently 2 of her daughters flew to the USA. Her third litter to Ch Debucher Savoir Faire produced only two lovely bitches, and then she retired to my friend Hilary Cole who, having given homes to retired PBGVs from me for several years, had recently lost Isa des Rayes de Larps a GBGV from France I had imported, who had consolidated her love of the GBGVs also. Hilary is bereft, as she told me of such a lovely bitch of a sweet undemanding nature. Her friend Debucher Zinnia (PBGV) is missing her already.
Wispa has gone hunting!
---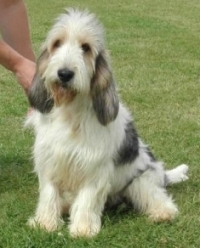 DEBUCHER MALGRE TOUT
22/11/2002 - 3/5/2011
(DEBUCHER XTROVERT - DEBUCHER LIBERTINE
The sad news of the death of "Monty" at the relatively young age of 8 ½ came from Connecticut USA where he had lived for 6 years a much loved part of the King family. Monty was a very successful puppy and young male in the show ring, often winning reserve Best Dog behind his uncle "Barbu"... Sadly we discovered when he was two that he was sterile and as the King family in America had contacted me for a male to join their two pet males a Bernese Mountain dog and Golden Retriever as a much loved addition, he went off to live out his days in their lovely family home.
He had been limping on one foreleg and X rays had shown nothing and with pain killers rest and separation from the other dogs, seemed to improve, four weeks on, however, the limp returned and X rays this time revealed a tumor and also the spread of the cancer into his lungs and bones. The decision was made not to continue treatment. As he was only 8, the King family are devastated to lose him as they put it "halfway through his life".
They loved him dearly
---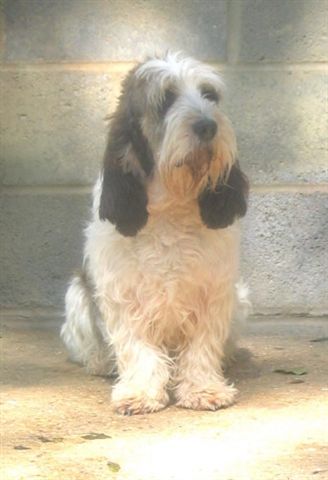 CH/DUTCH CH/GER CH/ DEBUCHER LE BARBU
20/2/1997 - 6/4/2011
"Barbu" was put to sleep today after a severe stroke. Fortunately, I was with him and able to keep him peaceful in his last moments.
Barbu was not just a great show dog but an endearing character at home. He put the GBGV on the map in the UK. He won Best in Show at the "Winners" Show in Amsterdam in 2000 becoming a Dutch Champion. He was subsequently Top Hound and no.7 All Breeds in the UK in 2001 winning 3 Hound Groups. He returned to Europe and became a World/German and European Champion also winning Best in Show at Hannover. In 2003 he was Reserve Best in Show at the "Winners" Show in Amsterdam, I believe this is the only time a dog has achieved these two awards.
He was the kindest dog with a brilliant attitude and willing to please both at home and in the ring. Top Grand Basset for 8 years, he also won Best of Breed five times at Crufts. He became the first UK GBGV Champion winning his first CC at Crufts under Jessica Holm and subsequent two from Zena Thorn Andrews and Mark Cocozza at 9 years of age!
He loved running in the woods but never strayed far from me. His best friend for 14 years was Debucher Jaromir who is still with me and missing his old friend . " Jaro" has now come into the house and is with "Sophie" Debucher Sauve Qui Peut, Barbu's grand daughter, who won the first bitch CC at Crufts with him in 2006.
His legacy lives on but to me he is completely irreplaceable. Vivien Phillips
---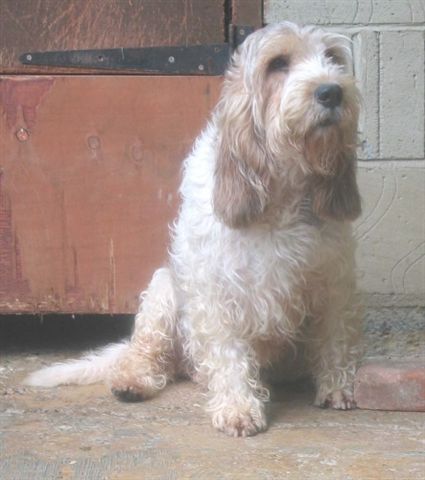 NIREAU DU BARBILLOT DES MALADIERES
16/5/1997 - 4/10/10
It is with sadness that I had to put Nireau to sleep to prevent further suffering. He was 13 and a half. Nireau came to my kennels in 2001 from France via Holland where he had already produced some lovely progeny in two litters. He was quite shy and nervous when he arrived but soon became one of the gang and loved his life as a very good stud dog! He sired 25 litters here and from his last two ( one out of Debucher Idylllique) Debucher Milord became the first Australian GBGV champion owned by Darrell and Debs Matthews and from his last litter the Makey's Gairside Sans Souci (out of Ch Gairside I'm Still Waiting) who gained her first CC and BOB at Driffield on 2nd October.2010
Fortunately, I have 5 of his daughters Debucher Gitane. Zsa Zsa, Creme Brulee , Willow and Folie. Other than Willow who sadly had to be speyed, they have all produced good progeny so his line lives on here.
Although deaf and then blind, Nireau coped very well round the garden such was the power of his nose, he always knew when I was arriving with his meals! In the last few weeks though he became very unsteady on his feet and I felt it was better for him to go before he lost all dignity and was unable to get up (albeit very slowly) onto his feet at all. He is buried in the woods here and hunts now with all the other BGVs including his arch enemy Bear!
A great noble hound who leaves a huge gap here.
---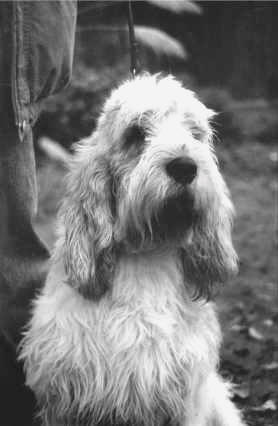 DUTCH CHAMPION FLAMBEUR DU ROC DE DEYMIER
9/10/90 - 20/6/03
It is with great sadness that I have to announce the death today of "Flambeur"
I made the decision to put him to sleep to avoid further suffering he was 12 ½ .

I first saw him at 18 months at the Nationale d'Elevage in France in 1992 and Jolanda Huisman and I decided to buy him as Yves Audouy his breeder decided to sell him to us. He went to Holland for a year and became a Dutch Champion before I brought him though quarantine in 1993.
In 1994 he arrived in the UK Show ring and was shown in Imported Register where he became top Imported Register all breeds and Top Imported Register Hound for two years, only to be succeeded by his son Dehra Esperance de Debucher from his first litter born September 1994
Flambeur is behind so many winning GBGVs in the show ring today, but apart from that he was the most beautiful Hound with a wonderful steady loyal character.
---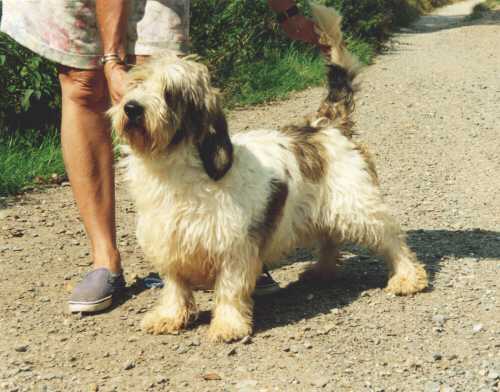 EFFICACE DU ROC DE DEYMIER
14/7/89 - 22/8/04
Efficace was born at the famous Roc de Deymier kennel owned by Yves Auduoy. Through the help of Jolanda Huisman Nick Frost and I were able to buy her at the Nationale d'Elevage in 1991. She was 2 years old. When I was at the French Nationals this year it was once more at Les Riceys and I well remember sitting outside in the courtyard with Yves and Jolanda and Nick 13 years ago, and Yves talking softly to Efficace in french telling her she would be fine and would go to a wonderful new home. It still brings a lump to my throat when I think of it now. She travelled back to Holland with Jolanda who eventually took her to Eros des Erondes de Peussefier a beautiful hound back in France. When in whelp she was brought through quarantine and produced 6 puppies. Tragically they died at 2 weeks old of an unknown virus and being in quarantine there was little anyone could do about it. It could have spelt the end of GBGV in the UK. We had already lost 2 out of the 4 pups born in 1989 and the cost of quarantine and the obvious risks involved in bringing bitches in whelp through, meant that we had to rethink the future of the breed in the UK.
I decided to "go for it" and brought "Effie" through after another 5 months. She was very quiet and shy at first but in time learnt to trust me and loved hunting in the woods. When in 1994 Flambeur du Roc de Deymier came to us and they shared a kennel, they became like Darby and Joan and when Flambeur died in 2003 Efficace became a "house" dog which she took to with amazing ease!
Effie produced 5 litters in the UK. Her first to Billy Joe Peterstown a dog born in quarantine (Dampierre du Greffier du Roi - Halou Baba du Greffier du Roi. This produced the Dehra "C" litter. She then was mated to a new import Qu-Pid du Greffier du Roi and because of the lack of males in the UK at the time produced 3 litters to him. Dehra "D" "F" and the first Debucher Litter. Her last litter and probably her best was to a young dog who had come into the UK via the Balai Directive Bien Fait Du Greffier du Roi. There were seven puppies one of whom is Dutch/German Champion Debucher le Barbu. Two of the bitches from this litter Debucher Lyrique and Debucher Libertine are behind some of the top hounds in the UK today.
In the early hours of Sunday 22nd August, 2004 Effie died in her sleep. She was 15. She had become quite frail but still managed to trot around the garden and demand a biscuit last thing at night. She was a gentle soul with no malice in her whatsoever. She was never any trouble and never had a sick day in her life.
She is buried next to Flambeur in the Ashridge Woods.
---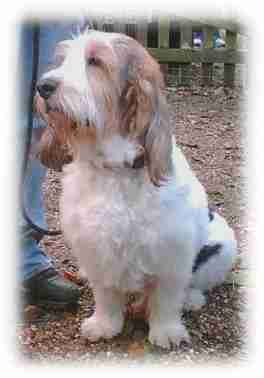 Bien Fait du Greffier du Roi
9/4/95 - 22/5/07
Sadly I have to report that Bien Fait du Greffier du Roi was put to sleep on 22nd May, he had been unwell for a couple of months since having major surgery to remove his spleen. At 12 years old he was still a great dog with a very strong character. He had lived with my Kennel Manager Helen for the past 4 years and had taken part in obedience with her at many local events.
Bien was the first BGV to come into the UK under the Balai directive in 1996 at the age of 10 months and burst onto the show scene with great success. His first litter in February 1997 to Efficace du Roc de Deymier produced Ch Debucher le Barbu and subsequent litters have give us many good hounds to carry on his blood lines including Debucher Creme de la Creme at Gairside, Debucher Idyllique Wilmit Braconnier de Debucher Wilmit Bobette and Bonnie. Holmchappell Hellion Melanter Grantully at Melwarrior. His grand daughters, Holmchappell April Fool, Debucher Wispa and Debucher Faites Vos Jeux have produced CC winning progeny.
His memory lives on here at Clipperdown
---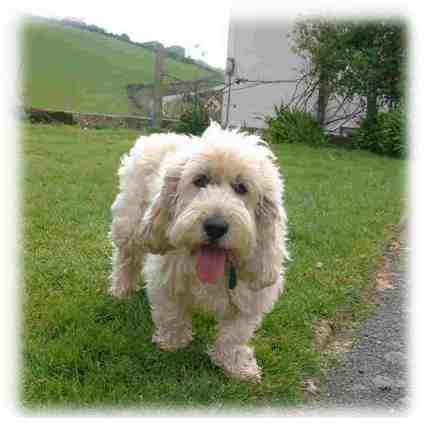 Jolanda du Hamel de la Renaudie
Some sad news of the death of Jolanda du Hamel de la Renaudie who I imported as a puppy through quarantine nearly 15 years ago. Jolanda lived here at Clipperdown and produced 4 litters. Her sons Debucher Jaromir and Debucher Xtrovert have been two of the most important stud dogs in the breed over the past 12 years. Jaromir producing bitches like Debucher Utopie and Debucher Tete a Tete and Xtrovert was the sire of Ch Debucher Picobello and Ch Debucher Savoir Faire amongst others.
One of her daughters Debucher Delicate who now lives with the Makeys is still doing well in the show ring. Jolanda spent her last few years down in Devon with a lovely couple Nick and Karen and was known as Sand Maiden because of her habit of rolling in the sand on the beach every day.
She brought great joy wherever she was.
---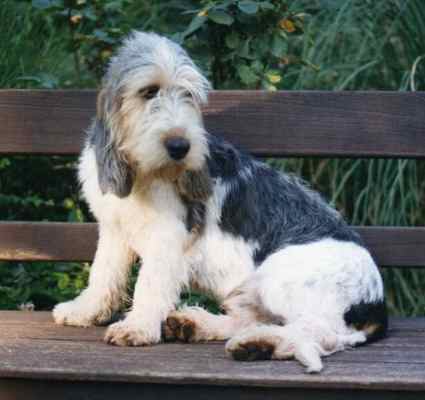 DEHRA ESPERANCE DE DEBUCHER "BEAR"
3/9/94 - 6/8/09
Just after midnight on 6th August I put "Bear" to sleep.. He would have been 15 on 3rd September. He was blind but very much still with it. But possibly due to a stomach tumour he torsioned and I was so glad I was there to help relieve him of any pain as quickly as possible. Bear came out of the first litter produced by Dutch Champion Flambeur du Roc de Deymier in the UK and his dam Bien-Venue at Dehra was born in quarantine from the second litter in the UK. He became a house dog early in 1995 because of his amazing temperament and intelligence and had his own chair in the sitting room, as many guests discovered!
Bear was top GBGV in 1996 and 1997 and won the first Best In Show twelve days after the Grands came off the import register on 1st January 1997. He was also the first GBGV to win a BOB at an all breeds championship show at Birmingham National 1997 under Zena Andrews. Bear sired some very good litters and his grandchildren are still winning in the show ring as are their progeny. Two of his grandsons Ch Debucher Savoir Faire and Ch Debucher Picobello were successful show dogs and have produced well.. In my opinion for size ( 42 ½ cms) and construction he was one of the best GBGV I have ever owned, with a glorious head and good coat. He did however have a very low boredom threshold and his idea of showing was one quick triangle, but standing still was not really on his agenda!
Bear had been shot at by a farmer as a 2 year old and to this day was full of pellets! He had driven us all mad by insisting on sitting out in the rain, snow and hail, rather than lower himself by sitting inside a kennel during the day. He was top dog here until the end after his father died, and was well loved by all who knew him.
A truly great dog to have known.
---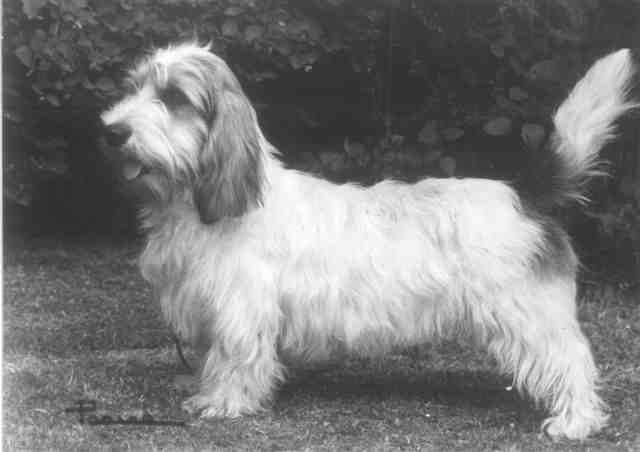 Ch Jomil Zadok (Ch/Dk Ch. Salto de Crislaure of Morebess - Jomil Reverie)
1987 - 1998 †
Cedric's sire Ch Jomil Zadok a dog full of joie de vivre who was a delight to own. He sired many very good puppies. Ch Dehra Ypres of Bondlea, Ch Anoroc Eire at Dehra, Ch Anoroc Tempo at Dehra, Ch Tangaer Creme Caramel, Ch Halistons Dameret, Debucher Gipsy and Helensfield Orateur de Debucher amongst them.
These dogs produced in their turn excellent type and soundness.
His spirit lives on her at Clipperdown and in many PBGVs alive today
---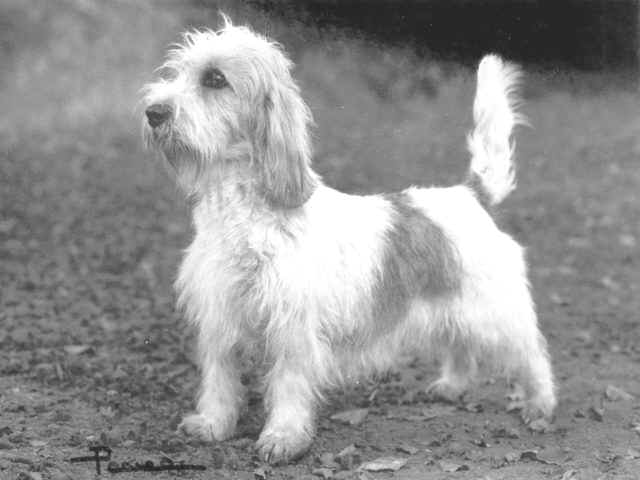 Photo by Diane Pearce.
CH. DEHRA LALIQUE
21.9.88 - 24.1.2003
(CH. JOMIL RIGOLO - VARON ULEMA)
On January 24th 2003 my lovely "Lalique" died. I was so glad that I was with her and that it was she who decided when it was time. She was really fit up to the last couple of months although old. She wore a bell on her collar so that I could find her at night when she went on one of her adventures!!! She had been a house dog for the last 3½ years of her life but stood in a kennel and barked until she was fed every morning.
Lalique had several litters. Her first by Ch Jomil Zadok produced Ch Dehra Ypres who in turn sired litters producing Champions. She had 2 litters by Ch Galant des Ajoncs de L'Aulne from which I retained Dehra Oleine who won 2 Reserve CCs but sadly never had a litter. Her litter sister however Dehra Oisive was the dam of the Dehra "Y" litter which included Champions Dehra Yorrick at Pommeraie, Ch Dehra Yasmine at Sweetdean and Am. Ch.Dehra Yo Yo who went to the USA with Nick Frost and has been very successful both as a show dog and sire.
Her progeny live on, but here at Clipperdown we have the memories of a truly wonderful bitch. A typical PBGV.
Naughty, lively and full of herself but beautiful even as she grew older. She was still winning in the ring at 12 as a veteran.
---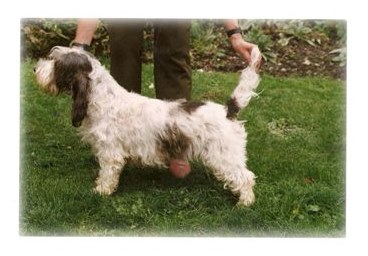 Ch. Debucher Mioche
April 1998 - June 2008
Mioche was the son of Helensfield Orateur de Debucher and Dehra Eminence.
The litter was born just before I was leaving for an AGM and I remember being so pleased that "Jo" his dam had decided to whelp in the early hours, so allowing me to leave after the 7th and last puppy was born. He and his litter sister Debucher Mange Tout had a successful show career as youngsters, but it was Mioche who went on to win his first CC as a junior under Sandy Mackenzie and subsequently his 2nd under Linda Lewis and won the 3rd from Phil Freer. In all he won 8 CCs.
He sired some lovely puppies and only last year several people commented to me that some of the soundest PBGVs in the ring at the BGV Club Championshipshow were his progeny. At 8 years of age, Mioche went to live with a lovely couple in Milton Keynes as a friend for their cross breed who was missing his pal who had recently died. These two boys got on well and had some wonderful walking holidays throughout the UK.
I was lucky to be able to "borrow" him for occasional stud work and it was always lovely to see him again. Sadly he appeared unwell on 2nd June and during exploratory surgery to check on what appeared to be a bowel obstruction, a large tumour was discovered near his pancreas. Mioche was put to sleep to avoid any further suffering.
Mercifully, he had not lived through a long illness.
A super character, easy to show, easy to live with, he died too young.
---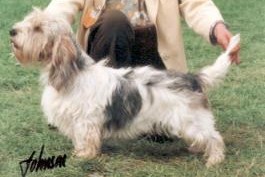 Ch Debucher C'est Ca
August 1995 - December 2009
C'est Ca was the son of Ch Jomil Zadok & Hamanda des Rives de la Garonn
"Cedric" first made his appearance into the show ring at the BGV Club open show in 1996 under judge Linda Lewis where he won best puppy and continued to gain more such awards finishing as top puppy that year along with a Reserve CC at Houndshow along with BP under Geoff Place (Ivelsyde).
At Crufts 1997 he won his first CC under Judge Barbara Dunbar ( Maquisard) who awarded him BOB he then finished a fantastic day by winning the Hound Group under Judge Jean Lanning. In 1998 he became the first Debucher Champion ( CCs from Geoff Place and Jean Lanning) and despite many offers I had no intention of selling him and he himself produced very good progeny including Champions Debucher Farandole and Debucher N'Importe Quoi. In 2003 Cedric went to live with great friends of mine Annette and Tommy Tucker who already had his mother as a house dog and who lived ten minutes away so I was still able to be part of his life . After Hamanda died Cedric's daughter Debucher Encore Une Fois "Encore" joined him in 2006 and earlier this year her daughter Debucher Kerfuffle also became part of the household. Together they hunted every day with Tommy in the Ashridge Woods often returning with a rabbit or two!
Sadly in recent weeks Cedric became too slow to join them on their walks and on 21st December we all made the decision to put him peacefully to sleep. He is buried here at Clipperdown near his father and many more of the hounds who have lived and died here over the years. Like his father Zadok, Cedric was an incredibly happy little dog throughout his life and even though he was old, could still trot along with that happy gait that made him such a favourite in the show ring.
We are all devastated by the loss of such a wonderful friend and character.
---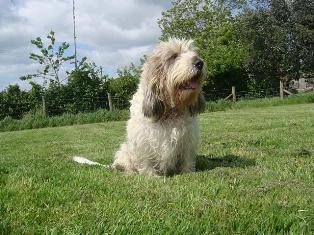 Debucher Vaurienne (Jess)
Feb 2000 - Aug 2012

Jess, our GBGV, had to be put down after briefly falling ill and a mouth tumour being discovered. She is missed by all of her human and dog family.
Jess certainly didn't have a boring life, she was a frequent flyer with Virgin Airways travelling to Florida on numerous occasions. When at home, she had the run of several acres where she could be a proper hound, chasing rabbits and digging in mud.
She was probably one of the most obedient hounds on the planet, just one call and she would appear from no-where at 90mph. She was always a happy hound and even won the waggiest tail competition at a Leonberger fun day. She had a sense of humour when one morning she decided to catch a rabbit, bring it in through the dog flap and gently put it down in the middle of the kitchen, where there was another three dogs, problem was, the rabbit was still very much alive and you can imagine the chaos!! All in all we couldn't have asked for a better companion over the last 12 ½ years.
She is missed by all of her human and dog family. Sarah Stirling Ash
---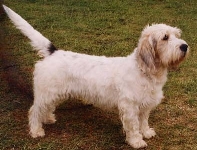 Debucher Tete A Tete (Maggie)
April 1999 - Sept 2012
It was with much sadness that we put Debucher Tete A Tete to sleep on to save her any further suffering and while she still had dignity.
Maggie was born on 1st April 1999 but she was no April fool, she was the cleverest GBGV we have owned. She won numerous Best Bitch and Best of Breed awards.
Maggie enjoyed being a show girl but was really born to sleep in the sun and take life easy. Her legacy to the GBGV world is Ch Wilmit Braconnier de Debucher (Poacher) who now lives in sunny Australia,
this would have been Maggies ideal climate.
She has left a huge hole in our lives, run free Maggie. Barbara Milton
---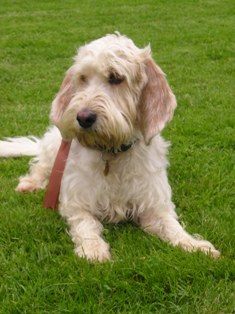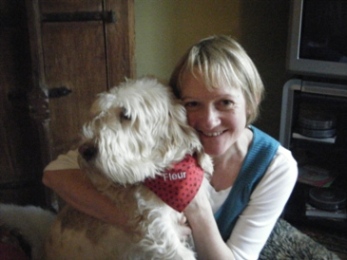 Debucher Donzelle (Fleur)
November 2001 - April 2014
Dear Vivien, We just wanted to tell you a about one of your Grand basset litter Debucher Donzelle.
We bought her from you back in the Autumn of 2001 after I visited Clipperdown cottage with my husband and then two young boys aged 5 and 7 years. Her pedigree name was Donzelle and we re-named her Fleur because she was as pretty as a flower with her orange colours. Fleur quickly settled in with us living for 6 years in the North Buckinghamshire village of Adstock and then moving on with us just down the road to Padbury. We were fortunate to have big gardens in both houses and she just loved being outside. We bought her a kennel and she would sit in it daily with her nose poking out watching (and chasing!!) the birds and basking in the sun. She had a wonderful presence and turned heads wherever she walked. The smell of all the local pheasants, rabbits and wild-life kept her nose to the ground and she was a complete joy to be around. She had constant love and a wonderful life. We have had nearly 13 years of fun and laughter with her as a family with walks aplenty but sadly we finally had to say good-bye to her this week due to old age and rapidly deteriorating health. She just gave up in the end and refused to eat. She knew and we all knew it was time to say good-bye. Naturally we are all heart-broken but I just wanted to say thank you very much Vivien for allowing her to come home with us that day and well just thank you for our lovely Fleur.
She has brought us so much happiness. We wanted you to know how very special she was to us. Michele and Chris Becque
---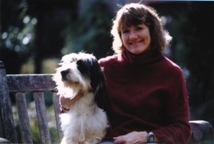 Debucher Idyllique (Dyllis)
November 2002 - December 2015
Sadley I have to report the death of Debucher Idyllique at the age of 13. Although "Dyllis" went to live with a lovely family and a young male GBGV puppy in 2009 after 4 litters, she was always one of my "special" girls. Born in 2002 she was top puppy and then after a successful show career, including an Excellent at the Nationale d'elevage in 2004 she gave me 4 litters of note. Debucher Zsa Zsa went to Holland to produce a litter including Can Can V Tum-Tums Vriendjes Debucher (Imp NL) and his litter sister Frou, Frou. This was followed by a litter to Debucher Yorrick which gave us Debucher Hors D'Oeuvre ( The adventures of Havoc ) and Debucher Harmonie. Her 3rd Litter repeat of Zsa Zsa gave us Debucher Milord the first male to go to Australia now a Grand Champion and finally bred to Ch/Ir Ch Wilmit Domino she gave me Ch Debucher Rigole presently top winning GBGV male.
A beautiful bitch who I am so happy had a long and happy life, but still leaves a big hole in my heart. Run Free Dyllis.
---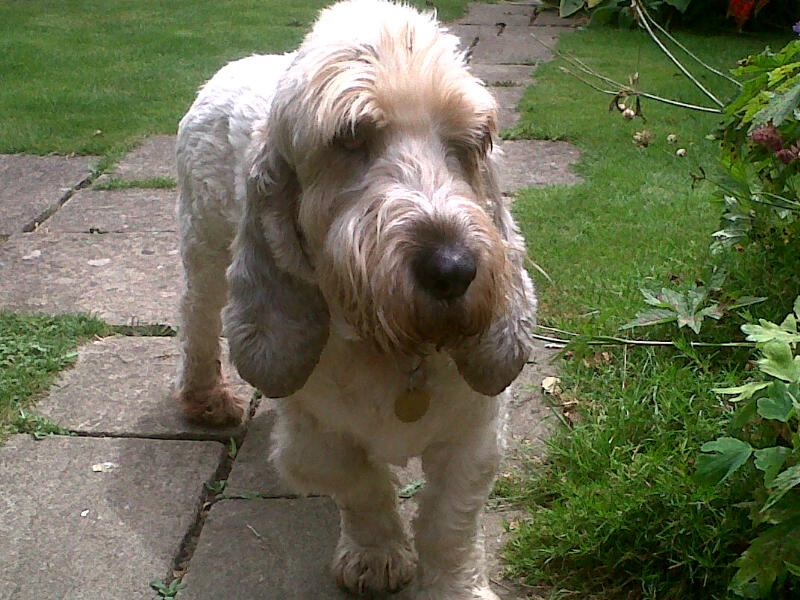 Debucher Zachary
August 2000 -August 2016
I'm is very sad to report that I lost Oakley, just 2 weeks after his 16th birthday I had him put to sleep as he was suffering from dementia and I decided to let him go whilst he had some dignity leftOakley was the dog I wasn't intending to have! I re-homed him at the age of 12 in August 2012. He was in quite poor shape, and I thought I would have him for either 3 months or 3 years. We managed 4 years!I have told the tale previously regarding how I came to get him, but it is worth the re-telling: he had gone into rescue because of a family break up. Viv had sent an email around about him, and it was my casual remark about this when I was at Honeybottom Kennels having my PBGV Zinna groomed, that led to me rehoming him, as Gavin had taken him into breed rescue. He came to me with a collar and lead, and that was it. I had absolutely no idea of his routine, feeding regime, where he liked to sleep or what toys he liked. So it was very much trial and error. It took him a little while to settle in as he was really quite traumatised. He became a much-loved addition to my household. I do wish that when people put their dogs into rescue, they give some indication of the dog's likes and dislikes, behaviour etc, as it makes it so much easier for the new owner as well as the dog if that information is to hand. Oakley loved his walks, but as age took its toll, these became shorter as he was becoming physically infirm as well as mentally. He was a very good house dog – I always knew when someone was around, and I'm afraid to say he wasn't averse at taking a nip out of a delivery driver who used the wrong gate to get to the house! But to bona-fide visitors, he was nothing less than well behaved and welcoming.He got on well with Zinnia, my PBGV who I lost last year, and latterly with Pickle, a Dandie-Dinmont Terrier who I rehomed a year ago as I was succession planning and downsizing!A Jaromir son, he was a very handsome dog with a strong voice and keen nose. He was the sixth of the breed I have re-homed – 3 Petits and 3 Grands: 3 dogs and 3 bitches. I love the Grands, but I'm not rushing into rehoming another at the moment, but as dogs always seem to find me, rather than the other way around, no doubt one will turn up one day.
Hilary Cole - 11th September 2016
---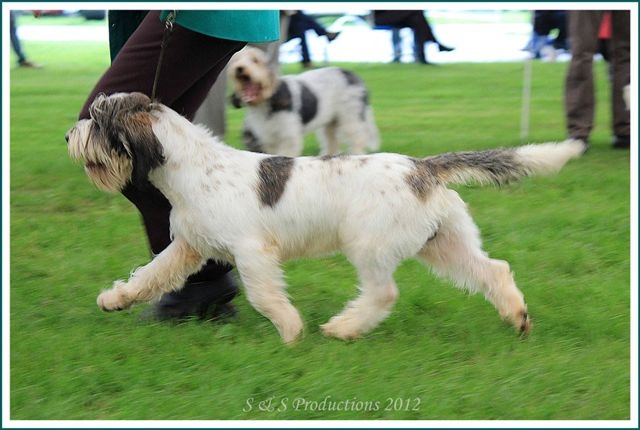 Debucehr Gauguin
December 2011- January 2016
It was with great sadness that I had to report the sudden death at only 4 years old of Debucher Gauguin (Ch Ravensbeech Bayeux – Debucher Keira at Tythe) . He developed a twisted small intestine and with the best care from my vets, sadly he deteriorated very quickly and it was decided to put him to sleep. A sweet dog who had a happy life both here and in the show ring ( I res. CC) thankfully we have his progeny Debucher Xzena and Debucher Bizet and Liz Cudlip's Debucher Xray of Harvidene.
He is sadly missed
---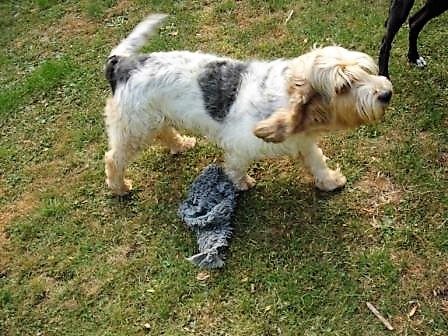 Debucher Sauve Qui Peut
December 2003 - July 2017
On Saturday the 1st July, I sadly put Sophie "Debucher Sauve Qui Peut" (Debucher Xtrovert - Debucher Faites Vos Jeux) to sleep she was 13 ½ and the sweetest bitch ever. Grand daughter to Ch Debucher le Barbu and Dehra Esperance de Debucher two of my foundaton sires, she produced some wonderful puppies in her 3 litters. Debucher Gitane whose progeny is now the backbone of my kennel. Debucher Greffier the foundation of Nancy Mclean's Ethos GBGV kennel in the USA and Ch Debucher Tambour who went to Mafalda's Do Casal dos Choupos kennel in Portugal. She was awarded the first bitch CC in the UK at Crufts in 2006 and also went to France to the Nationale d'Elevage where she was 3rd in a huge Open Bitch class with an excellent behind two bitches from the V Tum-Tums kennel. The "Nanny" to numerous puppies once she became a house dog including many Dachshund pups, with which she shared her basket!
We all miss her and her "sunny " dispositon inspite of being born on New Year's Eve 2003 in the snow
---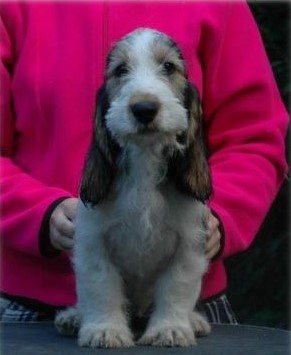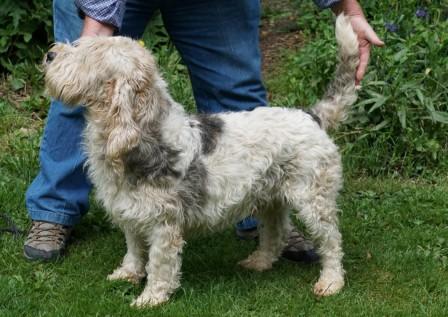 Can Can van Tum-Tums Vriendjes Debucher
July 2009 - July 2017
Sadly I have to announce that on Thursday 20th July we had to make the decision to put Can Can v Tum-Tums Vriendjes Debucher to sleep to prevent further suffering, he was only a week off his 8th Birthday. Can Can was born in Holland when his mother Debucher Zsa Zsa went over to Gwen Huikeshoven's kennel to be bred to Ch Barbapapa v Tum Tums Vrindjes. He came back to the UK as a pup and sired his first litter as a youngster which produced Ch Debucher Why Not with Eardley and Australian Champion Debucher Waltzer. He also sired Ch Wilmit Gabriella and Gigi with Grandoreille, and Debucher Sartre (1CC) South African Champion Debucher Alexandre Debucher Gairside Good Lord JW (1CC and many reserves) and his sister Gairside Good Gracious the same awards. In the USA Debucher Debussy and Dynamite at Verrnacia and in Austria World/multi Champion Debucher Quelquefois. Others being shown are Debucher Tosca and Tati and many wonderful pet puppies. His was the sweetest nature and although only lightly shown he was a great dog to handle. A tribute to his breed and his temperament will live on in his progeny. I remember taking him to Crufts and although entered in Limit he had been upgraded into open. When I went over to Fosse Data's office to enquire as to why, they had attributed the title of "Canadian Champion" to him as his name began Can Can! He had recently retired to live with my friend Donna but only in April and sadly only lived with her for 2 months. His litter sister Frou Frou now also retired is the dam of Ch Debucher Matisse. Both pups were a very useful addition to my kennels for which I thank Gwen for taking Zsa Zsa to breed in Holland. She returned to the UK before the two pups.
He will be sadly missed, we lost him too young. Coming with a fortnight of losing Debucher Sauve Qui Peut it is a sad time.
A tribute to his breed and his temperament will live on in his progeny
---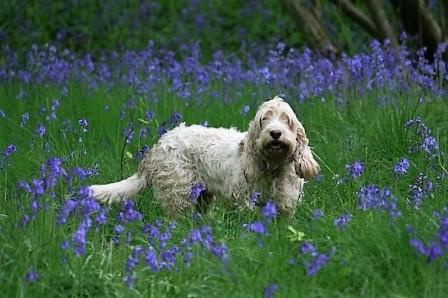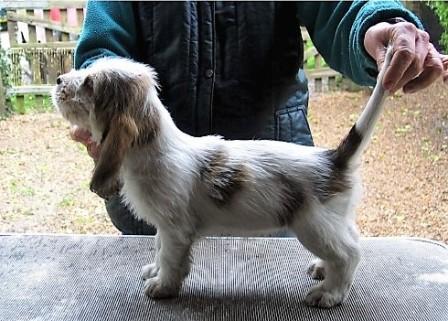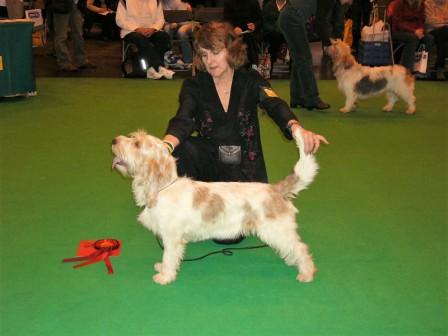 Debucher Willow
February 2005 - November 2017
We had to say goodbye to a great character at 12 and a half.. Debucher Willow ( Nireau Barbillot des Maladieres - Debucher Vaillante). She had become very unwell over the past few days and the decision had to be made to prevent her any further suffering. She was lightly shown as a youngster and won Best Puppy at Crufts in 2006 the same year we were awarded CCs for the first time. She sadly had a Pyo when in whelp at 3 so never carried a litter. She lilved with my daughter and grandchildren in London for a while, running free over Hadley Common and rushing to the school gates to greet them every day. She returned to live here with me as the "House" GBGV and ruled the roost in the kitchen keeping the Dachshunds and any puppies in check.
We will miss her greatly.
---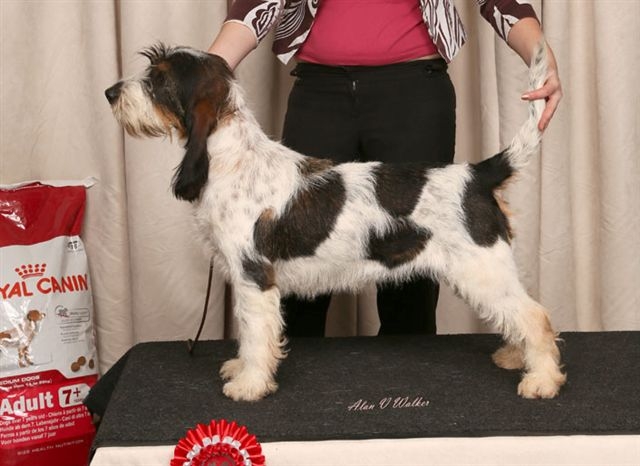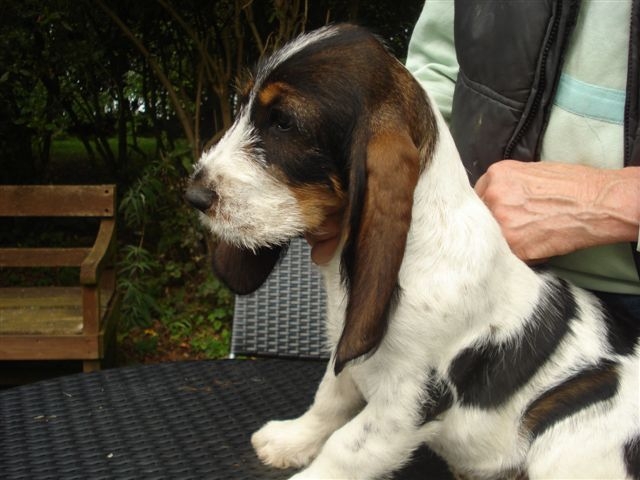 DEBUCHER BIEN CONNUE
23/6/2011 – 13/1/2018

AT ONLY 6 YEARS OLD SADLY "CONNIE" PASSED AWAY AFTER A SHORT ILLNESS. THE MOST WONDERFUL HOUND, A FAVOURITE WITH EVERYONE WHO APART FROM BEING A GOOD SHOW DOG WAS A BRILLIANT MOTHER. HER SONS DEBUCHER SARTRE AND DEBUCHER BIZET ARE HAVING SUCCESSFUL SHOW CAREERS AND HER DAUGHTER DEBUCHER SENSASS HAS JUST HAD HER FIRST LITTER AND HER DAUGHTER "LILY" WILL HOPEFULLY CARRY ON THE LINE FOR US.
CONNIE WILL LIVE ON IN OUR HEARTS FOREVER
---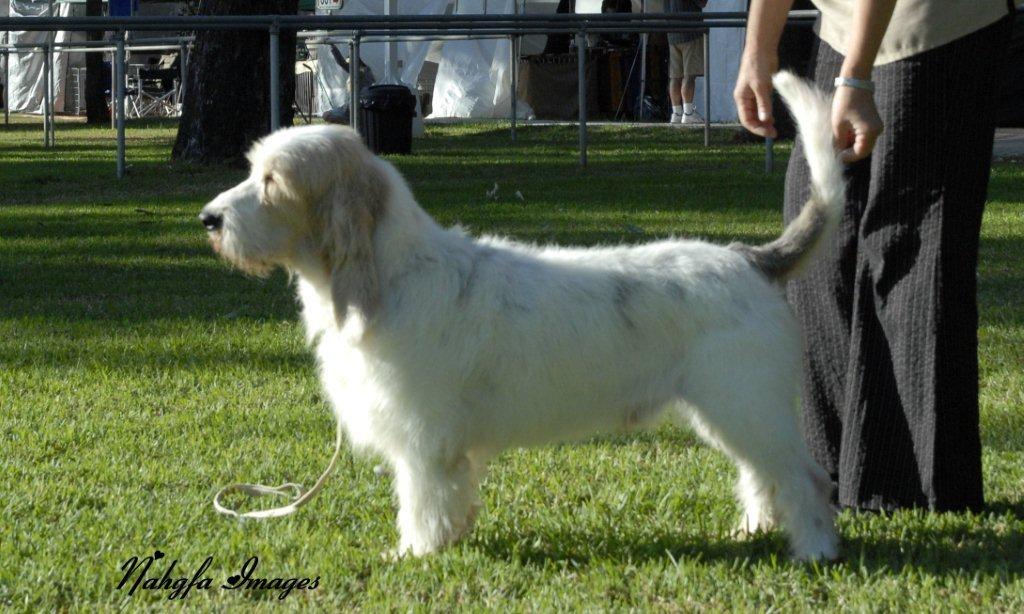 Aus/Eng CH Debucher Picobello (UK)
15/8/2003 - 22/4/2018
Pico came to Australia as a 7 year old dog and immediately became part of the family, 3 months out of quarantine he took out a Runner up Best in Show and it wasn't long before he became an Australian Champion, due to his age he was then retired from the showring. Pico only sired one litter of pups to Ch Debucher Waltzer (UK). This litter proved to be a turning point in the breed in Australia producing a Supreme Champion Rickaby Bound For Glory owned J Harnett/K Dorr, also in this litter there were another 4 Australian Champions, an Australian Neuter Champion again another first for the breed and a Rally Novice title another first for the breed in Australia.
Pico was a great ambassador for the breed not only in his offspring but in his great temperament he was a true gentleman and loved by all who met him
Debbie & Darrell Matthews
---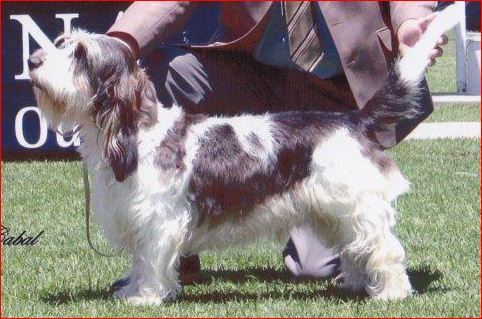 Grand Champion Debucher Milord (UK)
8/9/2008 - 12/1/2018
Milo along with Ch Debucher Kirsch(UK) arrive in Australia in 2008 they were our introduction to the wonderful world of GBGV we were now truly hooked on the breed,.
Milo was the perfect showman and the ring was his domain, he was the first GBGV in Australia to gain the title of Grand Champion and along the way won many Classes in Show, Best Exhibit in Groups and Best of Breeds including Sydney Royal Show, NSW Basset Griffon Vendeen Specialty and Spring Fair Shows under both local Australian and International Judges.
Debbie & Darrell Matthews - Rickaby Kennels Australia
---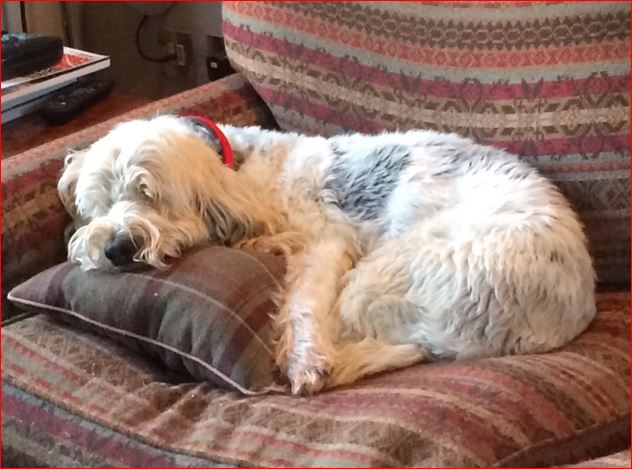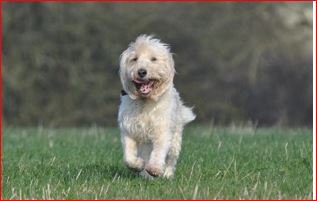 Debucher Pouilly Fume
2003 - 2018
Two weeks ago, we very sadly lost Harvey, 6 weeks short of his 15th birthday.
He spent his first 10 years in Beaconsfield where he regularly patrolled the front gate, saying hello to everyone who went past, most of whom stopped to make a big fuss of him. We very nearly lost him in November 2012 when we discovered a tumour the size of a small football growing on his spleen. Fortunately it was non malignant but six weeks post op I came home to find him howling in pain and blown up like a balloon, obviously suffering from bloat. After an emergency dash to the vet and an overnight stay in hospital, he returned home looking very sorry for himself and it took several months for him to fully recover from his ordeal. However, shortly after this episode, we moved home to a small farm in the Oxfordshire countryside where he got a new lease of life. He very much enjoyed his morning walks around the arable fields, nose firmly to the ground, searching for the hares, pheasants, and rabbits that he never managed to catch! He also had to get used to the arrival of chickens and an initial 8 Jacobs sheep (which have now grown to 60!) but there was never any doubt in his mind as to who was top animal at the farm!
Once he turned 14, he started to shows signs of being an old man. He started to struggle seeing where he was going in dim light, his hearing was going and we had to reduce the length of his walks as his back legs were obviously beginning to stiffen. The last few months, he became more and more confused and would "get lost" walking around areas he knew very well so we knew we were fast approaching the time we would have to make the hardest decision of all. Thankfully, as was Harvey's usual manner, he did things his way and slipped away very peacefully whilst asleep on his chair.
We would just like to say thank you to you for allowing us to bring into our lives the 5th member of our family,
little did we know the impact he would have! We will miss him. Karen Coates
---